I had some .030 wall 6061 tubing lying around. I love saying that. So I cut off about .5 inches squished it slightly.

I ran a piece of aluminum wire down the inside of the cylinder, inserted my squished slice of tube and then rotated it around till the cam action squeezed the wire against the side of the wall.

This seemed very secure and I can reuse the slice of tube.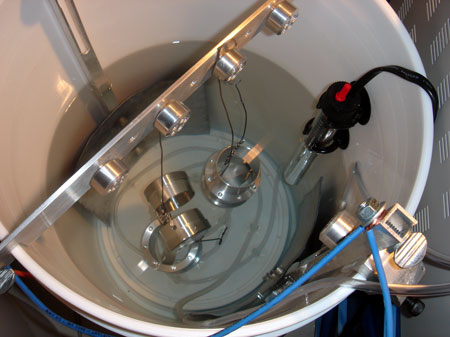 This is starting to look familiar. I anodized these clear so there is no glamour shot at the end. The parts were rotated 90 degrees half way through the anodizing process.
However, this brings up one strange point I can't figure out. I was supposed to anodize for an hour, but my voltage maxed and started dropping off after about 40 minutes. This tells me I've reached PAR (Peak Anodic Resistance) but being a novice, all I know is it means once I hit PAR I will start loosing the anodic layer. Can anyone tell me why I would hit PAR early? Help!


I forgot to mention, I was having problems getting my rectifier to work on Continuous Current mode. I bought this 20amp unit from Caswell. After a quick chat with customer service they offered to replace the unit and actually sent out the replacement the next day.

Wow, I was really impressed. I got the new unit, hooked it up to make sure it worked (it did) and sent the old one back. Now that is what I call customer service! A+ for Caswell. Just don't go abusing it and mess things up for the rest of us.

Recently I read an article about returned merchandise and they stated that more than half of "defective" returns are actually because the brain using the item is defective, not the item itself. Now that is funny, and must be why most places have such a facist RMA policy.