*********************** 05/24/06 ***********************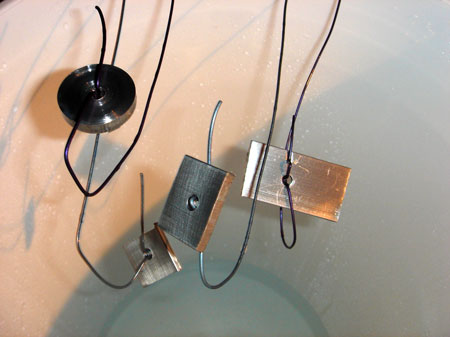 "So Jason," you say. "You know what would be really funny? Pretend like you have some idea what you are doing and post it on the internet!" Now that is what I call a plan.
These chips are from my second test and post-anodizing. You can see they are "way" lighter than my first ones. I'm not exactly sure what "burned" is...but maybe it looks a lot like the first run?
They looked so light I wasn't sure these anodized at all, but I figured I'd try and dye them anyway. I ran these chips at 6 ASF/.42 A/30 min/.25mil...kinda.
Well, my rectifier really doesn't like continuous current mode. I couldn't get it to work. Continuous voltage, no problem, doesn't help ME much though. I finally set the voltage until I got between .4 and .5 amps on the meter. During the 30 min I ramped up the voltage as the current dropped and tried to maintain my .4 amps.