The Alchemist is now the home for notes on my experience with the Shoptask Bridgemill Eldorado. The categories to the left are generally in chronological order. Feel free to send me any tips and tricks, I'm mostly here to learn. If you include photos I'll try to add them to the site. Also, you can comment using the Discussion link to the left.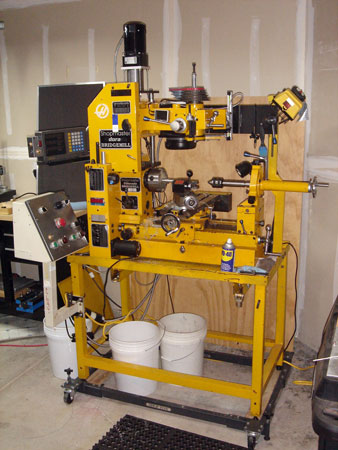 I used an excellent guide by Tangoromeo as my main source of information for lifting and basic setup:
http://members.cox.net/tangoromeo/index.shtml
However I ran into a few interesting snags and thought some of the details could be filled in, at least based on my experience. Much of the information available on either of the Shoptask forums is very dated so I thought maybe some people would find current information helpful. The two main forums for the Shoptask are:
(Shoptask Sponsored) http://forums.delphiforums.com/shoptaskUsers/start
(User Sponsored) http://forums.delphiforums.com/shoptask
People considering buying a Shoptask might also get a better feel for what they are getting into by going through this site and the guide I used. The general consensus that I found on the net was, "the Shoptask is a great machine if you spend the time and effort to get it tuned up." If you want a 3-in-1 that runs perfectly out of the box...this one is probably not for you, in my experience. I can't really say if other machines are easier.
However, if you are the kind of person that is going to use one of these machines the basic tweaks, repairs and modifications should be well within your grasp. JT at Shoptask has also been very helpful with suggestions and information.
That said, I'm a novice machinist. In fact my experience was limited to about three days of general instruction on a stand alone lathe and mill from a friend of mine before I took delivery of the Shoptask. I have noticed that people who post this kind of information usually have disclaimers. I guess because there are people that need them. This is probably a good time for a DISCLAIMER:
I am no expert and you probably shouldn't take my advice on any of the procedures herein. If something on this site looks like something you might try and do at home. Use good judgement, wear safety glasses and get/ask for help when you need it. Steel toe boots aren't a bad idea when you are lifting the machine. For proper motivation see the Mythbusters episode on steel toe boots. (Plus, I figured having a 900 pound machine on my toes would be sufficiently distracting enough to inhibit my efforts at getting my toes free.)
This site is in no way affiliated or endorsed by Shoptask or any other entity mentioned in this site. Anything you do is at your own risk and I don't take any responsibility if you hurt yourself. Get it? Okay then.